---

View and print Laura's Card.
View and print the Spanish version of Laura's Card.
For copies to be mailed to you, fill out this short form.
24-hour crisis lines
Women and Children First – (800) 332-4443
Arkansas Coalition Against Sexual Assault – (800) 656-4673
Arkansas State Police Child Abuse – (800) 482-5964
National Coalition Against Domestic Violence – (800) 799-SAFE (7233)
National Human Trafficking Resource Center – (888) 373-7888
Shelters
For a list of domestic violence service providers, visit the Arkansas Coalition Against Domestic Violence website, which includes a map of coalition shelter locations in Arkansas and gives detailed contact information for each organization.
Crime Victim's Guide
A Crime Victim's Guide to the Justice System in Arkansas, a service provided by the Arkansas Crime Information Center, was created to assist victims of crime to have a better understanding of the Arkansas criminal justice system so victims are more able to exercise their rights. It is also designed to inform victims of services available to them throughout the state including shelter, cash assistance, counseling, and private support organizations. This guide is not intended as a legal reference or to provide legal advice.
Arkansas laws
Act 873 of 2015 created Laura's Card
Arkansas Victim Rights Law/Act 1262
History of Laura's Card
Read about the history of Laura's Card at DomesticShelters.org.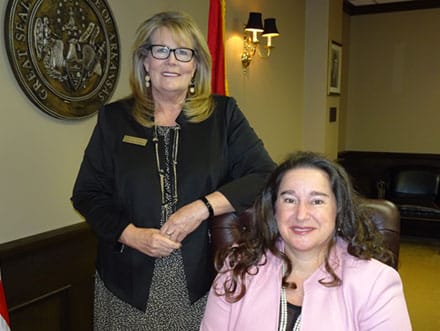 A message from Laura
"As a survivor of vehicular assault, I know violence is about control. I have high hopes that Laura's card will educate and empower victims and their families. Information and available resources help victims take back their lives. Victims and their families are entitled to rights and resources that will assist them in their journey to recovery. It is my hope that tragedy will be turned to triumph, and victims will become victors."
Victim support and information
Administrative Office of the Courts – iHope app
Arkansas Coalition Against Domestic Violence
Arkansas Coalition Against Sexual Assault
Arkansas Commission on Child Abuse, Rape, and Domestic Violence
Arkansas Crime Information Center
Crime Victims Assistance Association of Arkansas
Children's Advocacy Centers of Arkansas
Victim legal services
Order of protection forms can be founded on the Arkansas Judiciary site, which includes videos in English and Spanish that explain how to get an order of protection in Arkansas.
The Arkansas Legal Services Partnership, Center for Arkansas Legal Services, and Legal Aid of Arkansas, also provide a Domestic Abuse Order of Protection Packet, which includes pertinent forms and an explanation of the process.
Access an interactive map created by the Arkansas Administrative Office of the Courts that provides information on prosecutors' victim's witness coordinators, shelter providers, mental health providers, legal aid organizations, and other resources by county and judicial districts.
Tracking alleged and convicted offenders
To access information on custody status changes and criminal case information, visit VINELink.com. VINELink is a national online portal to VINE, a victim notification network. VINELink can be accessed 24 hours a day, seven days a week, to provide the most reliable information for custody status changes and criminal case information.
Other pertinent information about pending and resolved cases can be found at the Arkansas Administrative Office of the Courts CourtConnect website.
Victim reparations
The Arkansas Crime Victims Reparations Program provides financial compensation to victims who have suffered personal injury or death as the result of violent crime.
Law enforcement resources
Law enforcement officials seeking information on Laura's Card can visit the University of Arkansas System Criminal Justice Institute website.
Other resources
Based in Little Rock, the Center for Healing Hearts and Spirits provides grief counseling for crime survivors and/or their families, educational scholarships, and school supplies for Arkansas youth and emergency domestic violence shelter services.
Also based in Little Rock, the Central Arkansas Chapter of Parents of Murdered Children can be reached on its 24-hour hotline, (501) 351-7662. The organization has volunteers who accompany survivors to court and parole hearings and assist with writing petitions to block parole, as well as hosts grief support group meetings.