---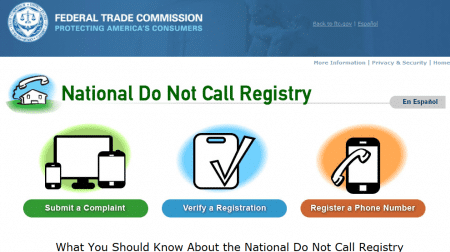 Do Not Call Registry
Registration free. You can register residential landline and wireless numbers.
Your number will remain on the list until you remove it or discontinue service to that number. There is no expiration.
Register online DoNotCall.gov or call (888) 382-1222.
File a complaint
How does the Do Not Call List protect me?
Telemarketers and sellers are not allowed to call phone numbers that are registered on the Do Not Call List if the purpose of the call is to sell goods or services. Violators are subject to fines. Each call may be considered a separate violation.
Telemarketers and sellers are required to search the Do Not Call Registry at least once every 31 days and drop registered numbers from their call lists.
The only information that is released to telemarketers is your phone number.
Do Not Call restrictions do not apply to calls:
From organizations with which you have a previous business relationship — A company with an established business relationship may call you up to 18 months after the last purchase, delivery or payment, unless the consumer asks the company not to call again.
You have given prior written, express permission
That are not commercial in nature or do not include unsolicited advertisements
By or on behalf of nonprofit organizations
Arkansas Law
After the National Do Not Call List was established, the Arkansas Do Not Call list was merged with the federal list. Now, if you are registered on the federal list you enjoy the protections of both the federal and Arkansas Do Not Call laws.
Telemarketing
In addition to the protections of the Do Not Call List, the Federal Trade Commission has also instituted rules for telemarketers intended to protect consumers.
Telemarketers cannot call you before 8 a.m. or after 9 p.m.
You can ask a company to put you on their internal do not call list. The company must honor your request.
Before telemarketers make a sales pitch, they must tell you that it is a sales call and who is doing the selling.
They may not misrepresent any information, including facts about their goods or services.
They must tell you the total cost of the products and services they are offering and any restrictions on getting or using them.
They cannot withdraw money from your bank account without your express, verifiable authorization.
They cannot use an automated dialer to leave you a recorded commercial message.
If you have caller ID, they cannot take any action to disguise the number from which they are calling.
If you have a fax machine, they cannot send you unsolicited commercial faxes.
For more information about telemarketers or phone scams, visit the Federal Trade Commission.